It actually started last night.
I was innocently reclined in my easy chair, munching a Krispy Kreme donut and watching Game of Thrones alongside the fur-nugget when the Alpha Japanese Female was afflicted with a wicked case of what we suspect was food poisoning.
In minutes, she was locked in the bathroom erupting from both ends like Drogon, Rhaegal and Viserion after a big night at Taco Bell. Suffice to say, the AJF was not sparking joy.
I claim temporary insanity when I tell you that I foolishly shouted through the bathroom door about the obvious parallels between the Iron Throne and her Porcelain Throne.
I allowed that if those noises kept up I'd probably have to move North. Sounds like winter is coming. Yeah, I tossed in a few fiery dragon jokes, too, just to keep the Game of Thrones humor rolling along.
My final line was "Hey hon, remember, when you play a Game of Thrones you win or you die." I thought that one was pretty good.
She was not amused.
In fact, by the time she finally slayed her digestive dragons and retreated to bed I had been repeatedly condemned to join Daenerys, Cirece, Jaime and the rest of the gang in the punishing flames of King's Landing. I started to get nervous.
I prepared for sleep fully expecting the next day to be a bitter one.
Oh, I should probably also mention that I forgot to start the dishwasher before retiring, a capital offense in this household especially when the AJF's final (polite) words were "Don't forget to…" Yeah, yeah.
Things got worse. I just knew they would.
As I made the rounds, turning off the lights and whatnot, I noticed a strange deposit on the floor in one of the guest bedrooms. Closer inspection identified the material as good old fashioned dog poo.
I was pretty sure who bore responsibility so I called the likely culprit to the scene of the crime and roundly upbraided him, even though accidents by Max are almost – like 99% – unheard of.
As usual, he ignored my imprecations, went to the master bedroom, and climbed up his dog stairs into bed seeking comfort from his Dog Mom who was still growling at me like an offended Direwolf for my alleged insensitivity.
As the old joke goes…what's the difference between a Direwolf and an angry AJF? Lipstick.
Somewhere along the line I even got blamed for Max dropping the Baby Ruth on the carpet.
Sucking it up, I grabbed my cleaning materials and sanitized the floor where Max had left his signature calling card. It was now after 11:30pm, past my bedtime, and I was ready to cut my losses.
It doesn't end there, oh no.
Next morning, when Max awoke he was in his usual happy-dog frame of mind and bounded from the bed down his doggie stairs. Halfway to the bottom he fell off the stairs and there came a high pitched yelp. How a dog falls off stairs is a puzzle I leave to you.
He stood holding his left paw high off the ground, obviously in pain. He resisted any attempt at my touching his lower leg. I checked as best I could but was unable to identify any specific injury.
I took him to the yard for his morning constitutional and told him to "walk it off" and "rub some dirt on it" but that plan didn't work.
The morning pee process was both pitiful and funny. Mr. Coordination tried to lift his back leg without lowering his sore front leg at which point he simply fell over, a weeble that wobbled too much. Come to think of it, this was perhaps a clue as to how a dog can fall off stairs.
I snagged an early appointment at the Vet's. Needless to say, I was on a solo mission because the spousal unit was a) feeling weak and b) still mightily pissed off at me. She had also just discovered the dishwasher full of dirty dishes which did little to introduce peace and light to the household.
Max had X-rays taken and some blood work done, the latter, I suspect, simply to increase overall revenues for the dog doctor. I waited and watched as other dog patients came and went including an enormous Doberman on a short lead that pulled a vet tech across the waiting room like she was water skiing. Good times.
While the Furball was in the back with the Vet, the ever-friendly desk staff presented their estimate of fees for "the proposed treatment plan" which is the white table cloth version of "fixing your dog's foot."
To put it in perspective, the bill was equivalent to roughly 15 cases of really good beer. I took one look, grasped my chest and responded, "This is the big one! I'm comin' Elizabeth!"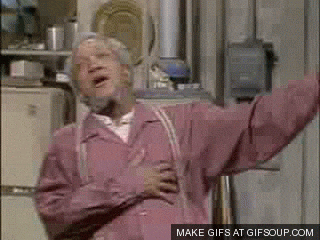 Finally, Doctor Fee McFeeFace came out carrying the agility-free little animal. She said that after an extensive examination, palpitations, and x-rays she could find no sign of trauma and most likely "your little dog probably just stubbed one of his little toes really hard."
"What? Are you kidding me? $300 for a stubbed dog toe?"
Jeezumcrow, if I didn't like the little bad actor so much I'd step on his foot just to get my money's worth.
They handed over some pain meds and an anti-inflammatory, both of which I immediately swallowed. No, I kid. I pocketed them, listened to the dosing schedule, paid the bill and prepared to depart with bitter tears in my eyes.
"Here, sir, take along a doggie treat. Max was such a good patient."
We got in the car and headed home bracing for the reception I might receive.
"Oh, my sweet summer child," Max murmured, "what do you know of fear?"